Hardscaping, Masonry and Landscaping Contractor
Devine Escapes was established in 2007 with the mission to create inspiring landscapes, unique garden sculptures and superior stone masonry in an ecologically responsible manner.
402 Eastbrook Road Effort, PA 18330   Established in 2007     Licensed and Insured with 21 years experience in masonry and hardscaping and a lifetime involvement in the arts and creative endeavors.
610-301-4269
devin@devineescapes.com
Devine Escapes landscaping contractor and Stone Art Blog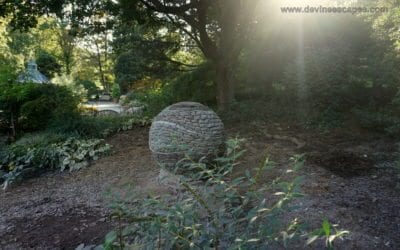 New Garden Sculpture, stacked stone sphere at Brookside Gardens, Maryland Silver Spring Maryland Sculpture completed September 26th   Newly finished Garden Sculpture   So one thing about building a garden sculpture in public like this is that I got to spend 20 days in...
Contact Devine Escapes Today
Don't be shy, let us know what you have in mind.
Our permanent address is in the Poconos at 402 Eastbrook Rd Effort PA 18330 We also maintain a shop in Schwenksville, enabling us to also serve Main Line area, Montgomery, Philadelphia and Chester Counties flagstone and natural stone hardscaping needs. Devin is available to travel, for artistic commissions