Dry Stone Garden Sculptures
My intention is to create dynamic and inspiring works of functional art and stone sculptures for private residences and public spaces. This work is done using the ancient medium of stone and the knowledge of traditional craftsmanship, combined with a visionary aesthetic and sensitivity to form and place.
These creations are born from a deep love and connection with nature. This is a dialog with nature, about nature, the universe and everything.
Sustainability is of key importance to this work.
My sculptures may be built truly dry stone, or with added cement and/or glue. In either case, the stone work itself is all structural. Each stone not only dances upon the surface of the sculpture, but is also an integral part of the structure. The creativity and the spirit of these works are thus supported by, and able to flower within, the framework provided by an understanding of the structural dynamics at play. Decades of experience with stone masonry provide this framework.
stacked stone sculptures by Devin Devine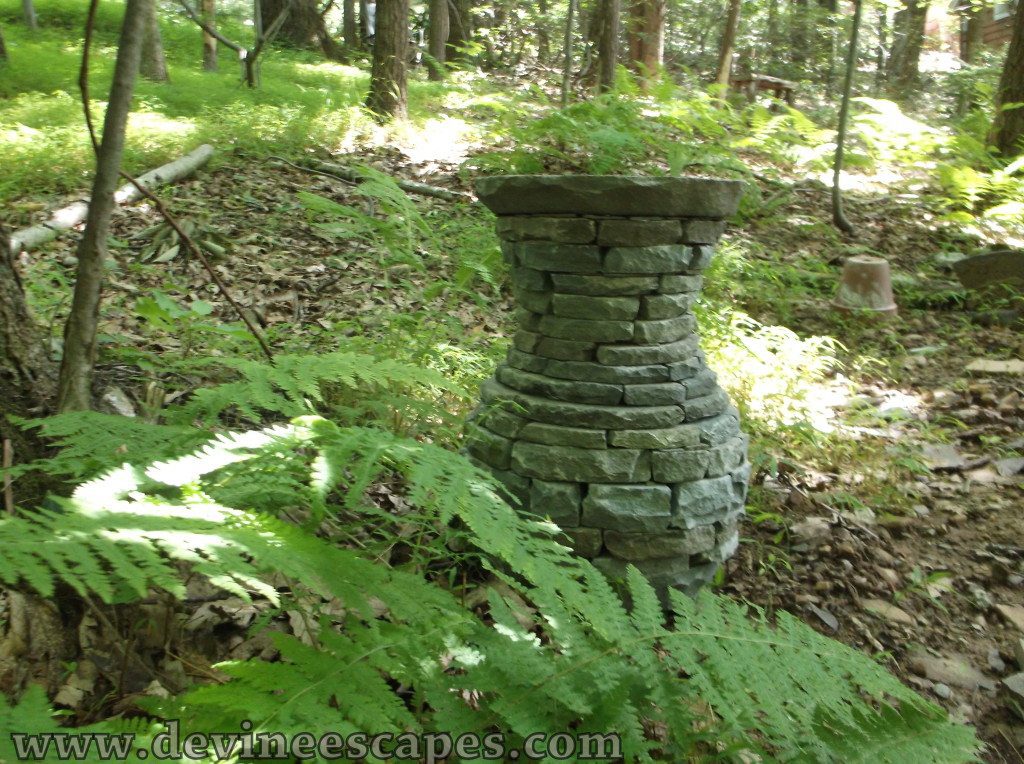 My dry stone sculptures have recently been featured in a book as well as Garden Design Magazine and the Washington Gardener magazine.
Lithedelic Goddess Vessel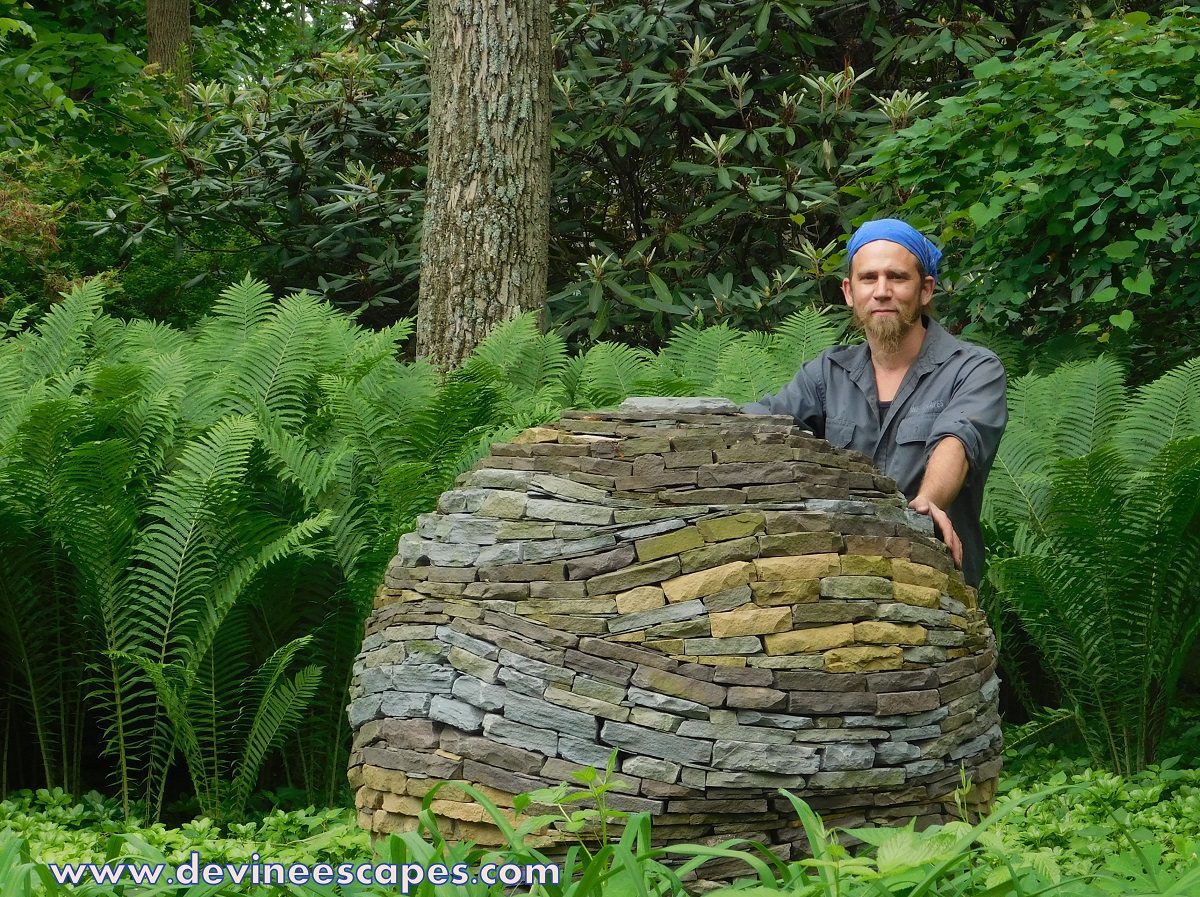 This sphere was possibly my favorite dry stone sculpture to build. I even wrote up a walk-through, documenting the building process, with photos and descriptions for each stage of it's construction. It's in a blog post entitled building a dry stone sphere.
Unique stone work design and construction. Flagstone patios, walkways, walls and other hardscape features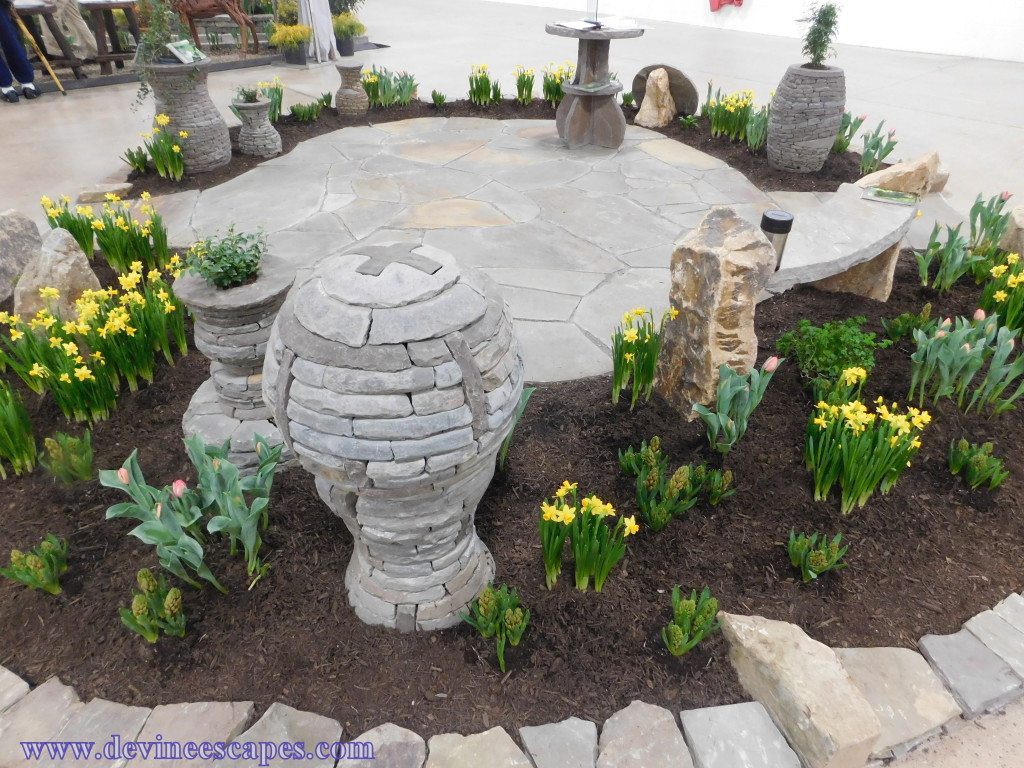 Dry Stone Sculptures
Note: some of the smaller pieces shown here are not true dry stone. They are built in much the same way as my larger dry stone sculptures, but contain the addition of glue and/or cements, to make them stable enough to be transported. Also, since they're smaller….the larger ones are entirely sturdy due to their own weight. Glue and/or well-hidden cement and other "dirty tricks" are only employed if vandalism is a concern/zoning regulations/customers wish forces it. My preference is to go completely dry, whenever possible. A five thousand pound sphere is NOT easy to knock over. You'd have to un-stack it, one stone at a time, until you got to the half-way point, at which point it would become unstable and would topple more easily. A two foot tall vase however, if it were dry stacked would be vulnerable to accidents. Since I spend a lot of time on these, and since kind people pay me good money for them, then yeah, the smaller ones will have some type of bonding agent. In all cases, my work is well made and built to last.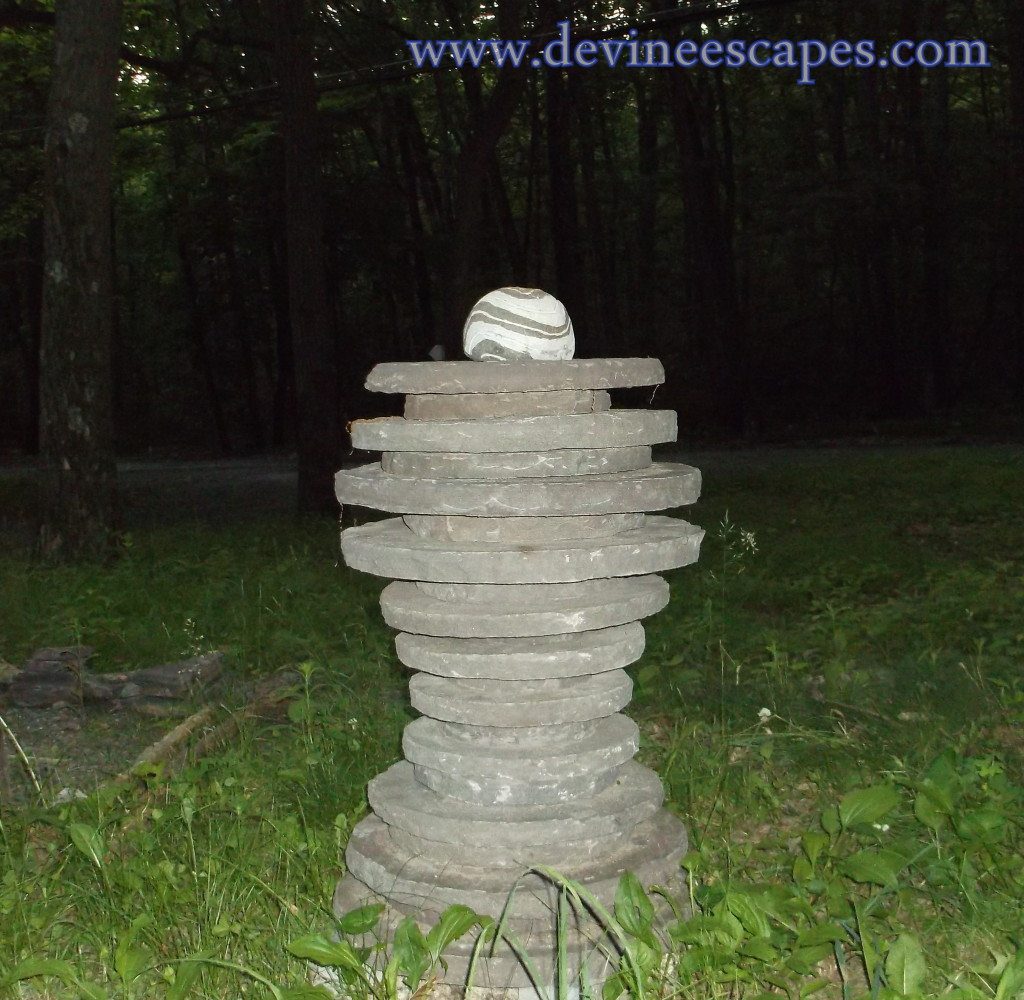 Unfinished fountain. Sitting in my yard currently…I'll put the the final touches on it when the right property/right customer comes along.
Look at this stuff too:
To begin the commission process, get in touch. Serious inquiries only please.
610-301-4269
devin@devineescapes.com