most of these flagstone patios are in the Main Line area of the Philadelphia suburbs and surrounding regions, but I am available to travel and have done projects across the county

                                                                                                                                                                                 610-301-4269
devin@devineescapes.com
flagstone contractor in Effort PA
Natural dry laid flagstone patios
I like to use good thick flagstones. Stable under-foot, the patio stays nice and level for ages to come. Yes it does! The flagstones neither sink nor heave, despite any freeze-thaw cycles that may occur. Any maintenance that has ever been required for any of my flagstone patios has always been minor. All of the flagstone patios featured on this page are made from Pennsylvania Bluestone, which comes in a variety of colors, thickness and sizes.
Flagstone Patio In Devon, Pennsylvania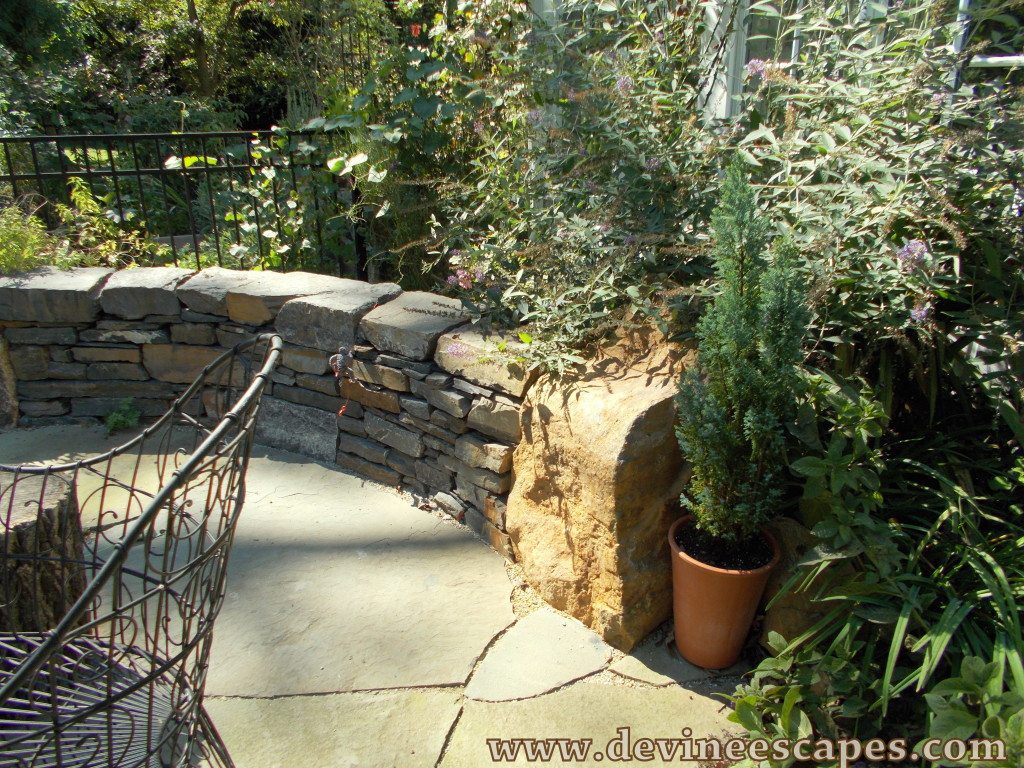 There is an elegance, beauty and a graceful simplicity that you can only get from natural stone paving.

I've been doing flagstone work for little while now…since 1997 in fact. I've done concrete, stained concrete, stamped concrete, concrete pavers–I've built all kinds of patios out of all sorts of materials. Dry laid flagstone wins. Since starting Devine Escapes in 2007, it's been all about the natural stone. No time for faux. Nothing ersatz. Nothing psuedo. All Real Deal, all week long.
Pennsylvania Bluestone Patios
Strength, beauty, and resonant warm character–flagstone just has a realness about it that no other type of hardscape paving material can touch.
Now, I know I said earlier that I take this work seriously, but that does not mean we can't have a little fun with it too. Having learned well how to lay traditional flagstone patios, as well as all sorts of other types of paving, I am free to experiment, offer up a little bit of whimsy in my design–and if the client is cool with it, I can build some playful and/or artistic patios.
I've written many how-to type articles, which explain a bit of how I do this work, why I recommend using the materials that I use. Hopefully, these articles may help to :
Establish myself as a knowledgeable expert on matters of natural stone hardscaping. You can hire me with confidence, and relax, knowing you will get a good job.
Help a DIYer out. Hey, as a pro, I still respect DIY. I even offer DIY phone consultations now!
Help people find me. I have two upcoming repair jobs where I'm turning a repair into a piece of art. You'll see what I mean, soon enough. But people often have hardscaping or masonry in need of repair and before they pay someone to fix it, they research how it ought to be fixed…..then, they find my pages and learn of my artistry. Next they email me up and want to commission me to turn their landscape into art. Is that not the bees knees? It sure is. the cats pajamas even.
I furthermore hope that my how-to blog articles can help raise the standard, generally speaking. People are getting back into real stone. For a decade or so there, there really was no natural stone hardscapes being built and the scene was all pavers and decorative concrete and bleh. Now, that people are back-lashing and want real stone, someone ought to educate the installers. Fine, I'll do it! I don't want you newbies making flagstone work look bad by doing it wrong. Landscape contractors: please read Devin's blog–especially if you plan on trying your hand at flagstone work and dry stone walls. You are welcome.
Why is gravel the best choice for your your flagstone patio's foundation?

Cement will (probably) crack. Especially grade level cement. Especially in a climate with winters like ours in Pennsylvania. Worse way to go about it would be to lay the flagstone upon a bed of gravel and then cement the joints between stones. Horrible idea. The gravel base is flexible and will move ever so slightly during freeze-thaw. Well, if the base was done poorly the movement might be more then slight, but let's assume the base was done well. A gravel base will definitely move a bit—looking at any of my patios, you'd never know that, but the movement does happen. Cement is rigid—if you put a rigid top on a flexible base then systemic cracking is inevitable.

Cement is of course a fine joint filling material if the flagstone happens to rest upon a concrete foundation. But why on earth would you want to have a concrete foundation anyway? The concrete itself will crack, eventually. In a northern climate it will likely crack within ten years—and the chances of it cracking within the next three years are pretty high too. Environmental impact of concrete production is no small issue either. Anyway, I personally prefer dry stone work. More harmonious, warmer, just better. The feeling you get from a well done dry laid flagstone patio, IMO, is just better than a flagstone patio set in cement. My opinion.

A flagstone patio set in cement can of course look good and last a long time. I've built many that look great,–many years later too. But if there is cement between the joints, there just had better be a concrete foundation. I mean it.

Sand…. The problem with sand is that it washes away by action of water, blows away by action of wind, and gets carried away by action of ants. That's why stone dust AKA screenings AKA decomposed granite works much better, for underneath flagstones, than sand.
Continue reading this article for more information about which choice is better for your patio, sand, cement, or gravel!
Raised flagstone patio in Limerick, PA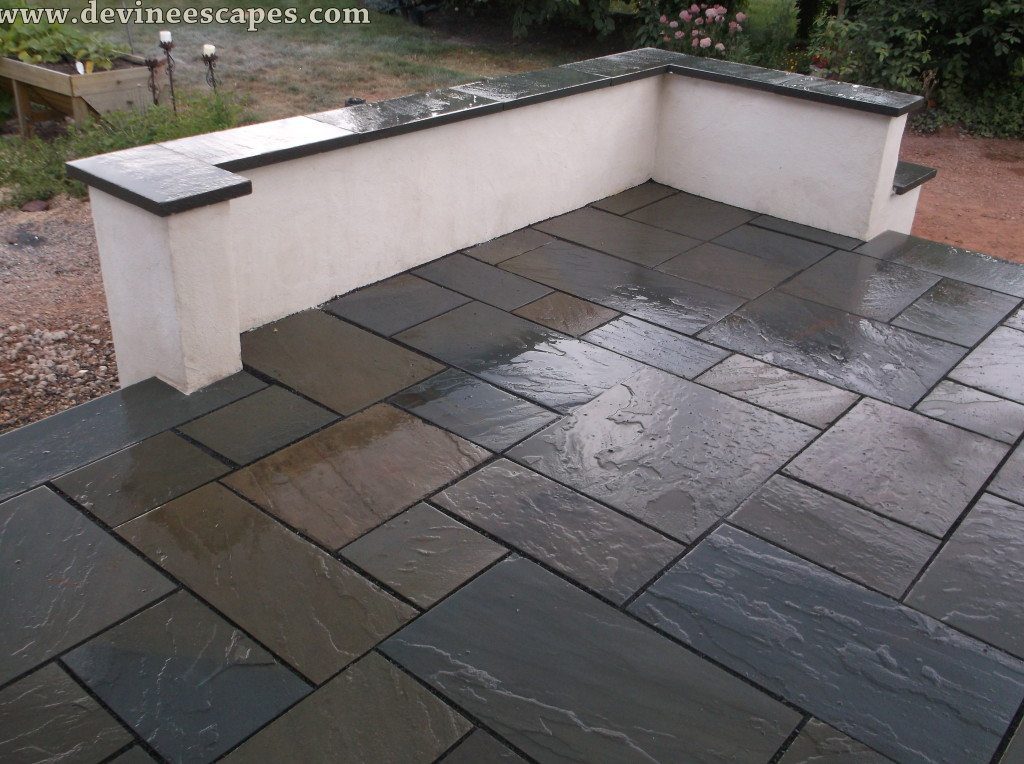 A much more formal look here. Dimensional flagstone, white stucco walls and Pennsylvania bluestone cap. Many clients are going for an organic, natural vibe, but we can do elegant or formal or classy too.
Chester Springs Pennsylvania, flagstone patios and stone walls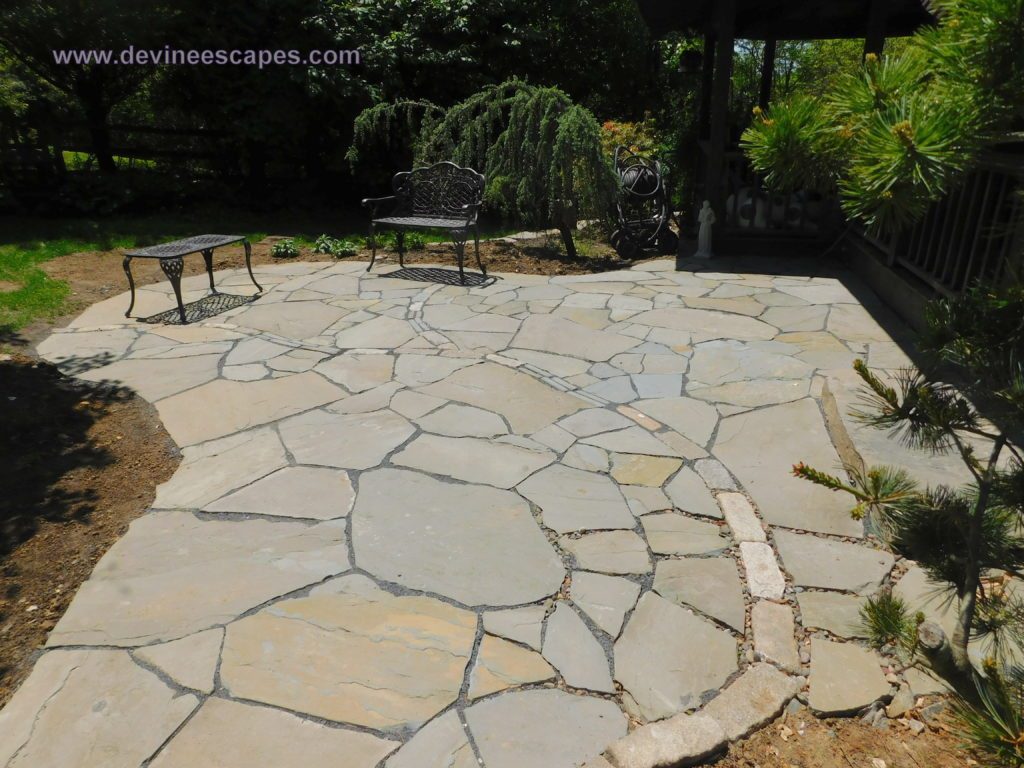 My dry laid natural flagstone style changes, evolves over the years. There days, I'm going with a gap that is pinky width to thumb wide, generally. Not too perfect, but fairly tight and with a pretty even spacing–not four-inches to half an inch, but around one inch spacing. Too tight and it looks too contrived. I'm just not into saw cuts. I'll use a saw (hammer and chisel too of course) but looking at it after it's done, you wouldn't know a saw was used.
Also, if the flagstone joints are too tight, it can make maintenance harder. The flagstones will just not stay 100 percent right, no matter how good you are. If the flagstones sit only an eighth of an inch apart, then after a few years, if one stone settles a bit, it will be more obvious. With a one inch joint, minor flagstone settlement is less obvious. But too wide of a joint can likewise become a maintenance issue, with joint material coming loose and stuff like that.
Other hardscaping services in available from Devine Escapes:
Only natural stone, only traditional, real stone masonry. We regularly do projects in the Main Line area, the Poconos, and West Chester New York. I do travel further, but the general serving area includes:
Devon PA | Chester Springs PA | Irvington NY | Yonkers NY | West Chester NY | Bryn Mawr PA | Paoli PA | Limerick, PA | Collegeville PA | Lake Harmony | Stroudsburg PA
Call 610-301-4269
Email: devin@devineescapes.com
Thanks!