610-301-4269

devin@devineescapes.com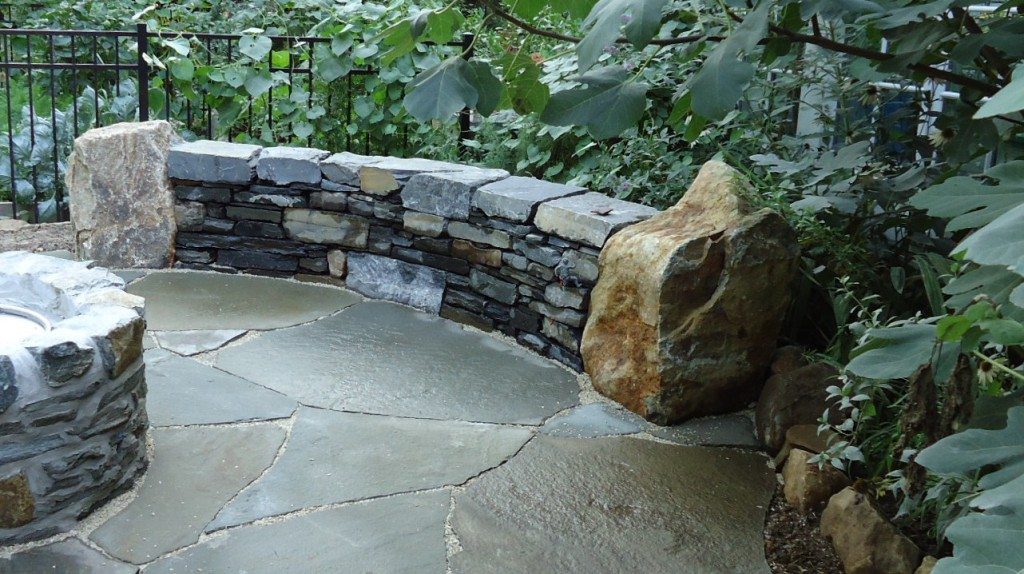 Flagstone Patios and Natural Stone Hardscaping in Devon PA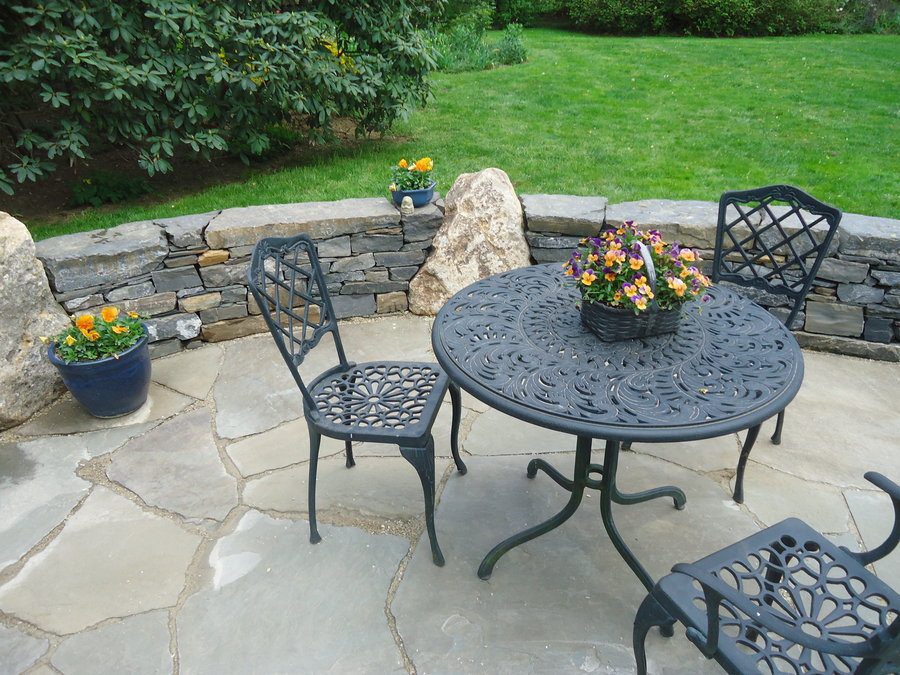 The Above photo is of a natural stone hardscape that we built in Devon PA back in 2011. This patio is built of Pennsylvania Bluestone upon a foundation of crushed stone.
Stable, Dry laid Flagstone in Devon Pa
As for the flagstone itself, I chose to work with larger units. By large, I mean thick. It's a little bit heavier on the back to work with thicker stone, and since I buy this stone by the ton, not by the square foot, it is a bit more expensive for me this way.  However, a thicker stone will stay steady underfoot and be less likely to settle or heave with the freeze-thaw cycle, and the stone itself will last longer.
Stone dust for the leveling agent–not sand. Ants love sand and it washes away. Stone dust, not polymeric sand for the spaces between the flagstones–because polymeric sand, while spiffy and keen at first, is actually quite a maintenance problem in the long run. I explain this point in greater detail here.
I could go on and on, but lest my reader tire, let's just say that every aspect of this natural stone hardcape job in Devon pa, and all the jobs that I take on, are well considered. Instead, let's just look a little bit closer at that wall.
Dry laid free-standing hardscape wall, at sitting height. With no cement added, this simple Dry Stone Wall supports itself quite nicely. The style of stone work is known as Level Coursed with random Jumpers. The main body of the wall is composed of local argilite, a great building stone, which one can find all over the Philadelphia/Main Line region, in creek beds and hillsides, and which is quarried in Norristown PA at Gill Quarry, not far from Devon pa.
For the wall ends we went with beige boulder, stood upright and buried well down into the earth. These provide a pleasant, almost striking, contrast of both color and texture with the argilite.
Wanna see how it's built?
Stones are patiently fitted in such a way as to endure that the stones rest steady upon one another. The base is wider than the top, many stones span the entire width of the wall and the whole thing is built with a deep sympathy and reverence for gravity, and for all of nature.
Same property. These benches use the same type of boulders as those used in the wall ends. A bit of the back story behind this piece can be found here.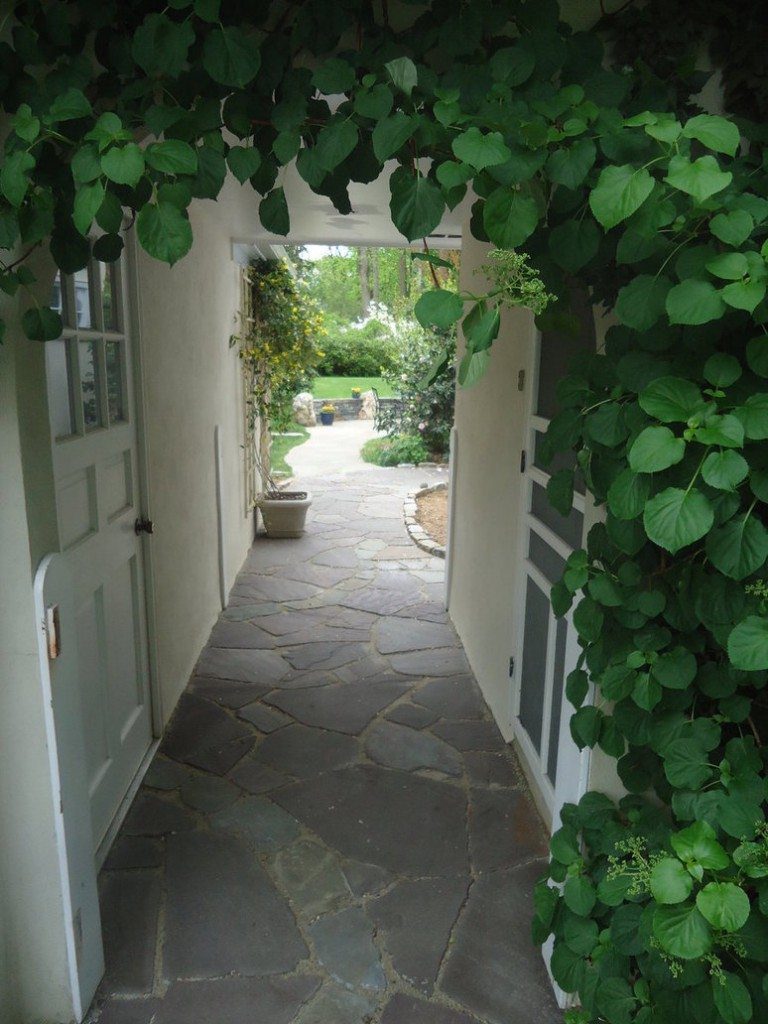 Flagstone walkway. If you look close you can see the boulder wall from the first photo, way in the background of this one.
More information about this last photo, a visual walk-through of the building process can be found right here
Other services available in Devon PA include:
Flagstone re-pointing and repair in Devon PA
 
Artistic Hardscaping and Landscape Design in Devon PA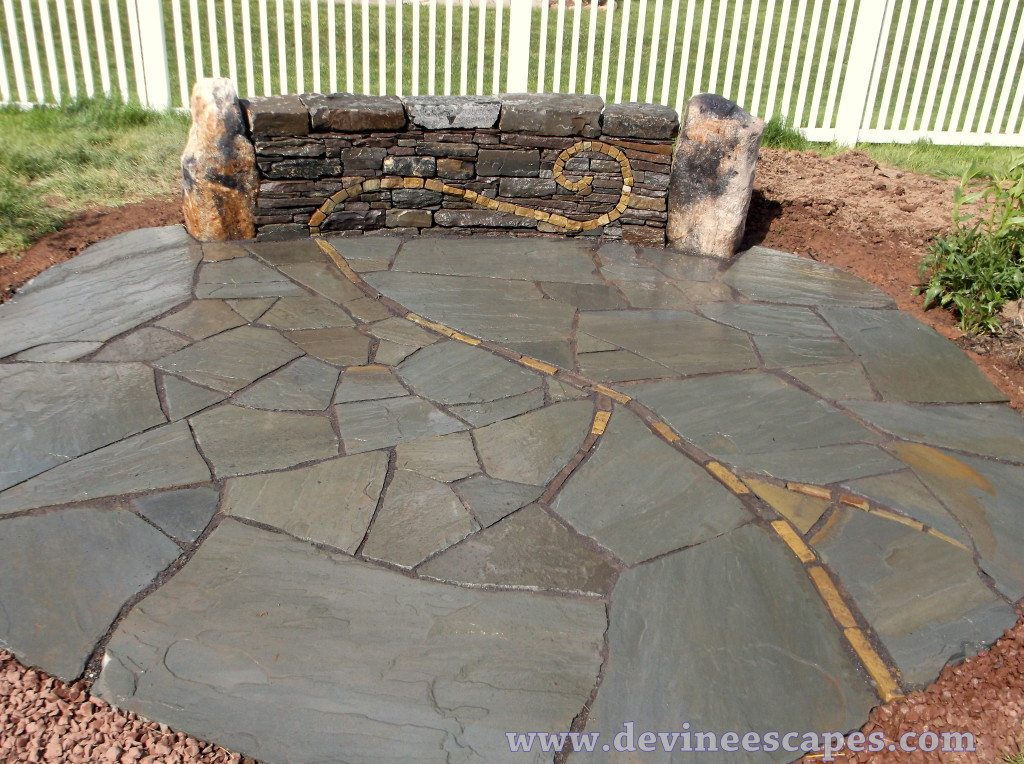 Different Aesthetics can be created, from rustic and earthy, to wild and artistic…
This is special niche work. Only natural stone, only traditional, real stone masonry. As such, we cast a wide net and regularly do projects in the Main Line area, the Poconos, and West Chester New York. Occasionally I'll travel even further, but my general serving area includes:
Devon PA | Chester Springs PA | Irvington NY | Yonkers NY | Westchester NY | Bryn Mawr PA | Paoli PA | Limerick, PA | Collegeville PA | State College PA | Palmerton PA | Haverford PA
If you are looking for high quality natural stone hardscaping in Devon PA, call 610-301-4269 or fill out the contact form below.
Thanks!