Devine Escapes
Fort Washington flagstone patios and hardscape contractor
610 301-4269
---

Local natural stone materials turned into comfortable inspiring, outdoor space

Hardscapes designed to fit with the surrounding environment

A space that encourages spending time outside

attention to form and fine detail

enduring beauty in natural stone
---
Fort Washington Flagstone and Stone Patios
Enduring beauty: Fort Washington stone patios that stand the test of time
My goal is to create functional and beautiful works in stone. To this end, I draw upon 20 years experience working with stone and a lifetime involvement with fine art.
In a northern climate such as ours it is usually not recommended to build a flagstone patio upon a concrete foundation because grade-level concrete and mortar is too likely to require significant maintenance within too short of a time.
A dry laid flagstone patio, if built well, should require only minimal maintenance for years and years to come. 11 years in business and I still have not had one single flagstone patio of mine need anything more than a couple hours of attention to keep it looking shiny and new. As such, the extreme majority of flagstone patios and walkways that you will see on this website are dry laid, built upon a proper foundation of well compacted road base with stone dust as the jointing material.
The cemented in patios that you will find here and there on this site are all either repair jobs, or flagstones that I set upon an already existing concrete pad.
I've written several DIY articles related to flagstone work which describe a bit of the process that I use and explains a bit why I have my material preferences. If you are unsure as to what sort of patio suits you best, then the articles on gravel versus concrete and polymeric sand versus stone dust may be of interest.
---
Fort Washington Flagstone Patios and other hardscaping services available from Devine Escapes: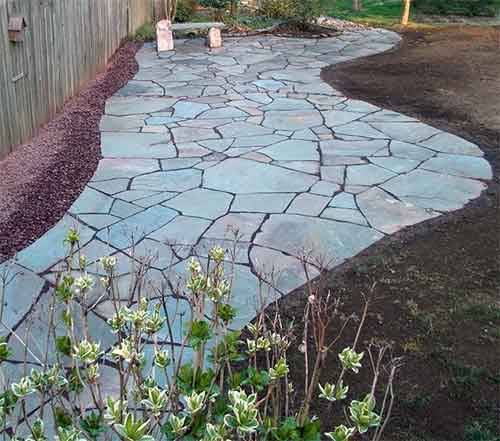 Email devin@devineescapes.com