Hand Made Log Arbors in Pennsylvania and New York
I like to do log work sometimes too. I work mostly with cedar, which I collect after storms. I'll be driving along, see a storm fallen cedar–and if I have my chainsaw with me, it's on.
Log and Branch Cat Trees, made in the Pocono mountain region of Pennsylvania
Cat trees! Ages ago, I built my first cat tree, from lumber which I got for free from a construction site. A few years after that I had the notion of hey, it's called a cat tree….why not make it out of branches–rather than 2×4's?
Natural Log Art and Stone Art
This last one is my newest. I had this awesome log laying around for over a year–I knew as soon as I saw it how it was going to look–it was going to look basically unchanged. no need to peg any branches into place at all, they were all already in the right place. Some of my other pieces are built this way as well–other times, I need to mortise and tenon a new branch into place. So yeah, I just made the stone stand for it, and fit the platforms into place. I think this will stay outside and be used to house potted plants.
….alternatively, maybe it will be part of my workshop. Tools and stone will be stored on these shelves! Hey, my customers get all this cool stuff built by me…..I think I get to have one for myself. Usually, my tool shelves are these functional, but unappealing structures made from scrap wood and re-claimed cinderblocks. Having my hammers and what-not stored up on this will surely brighten my day a bit.
And this one too: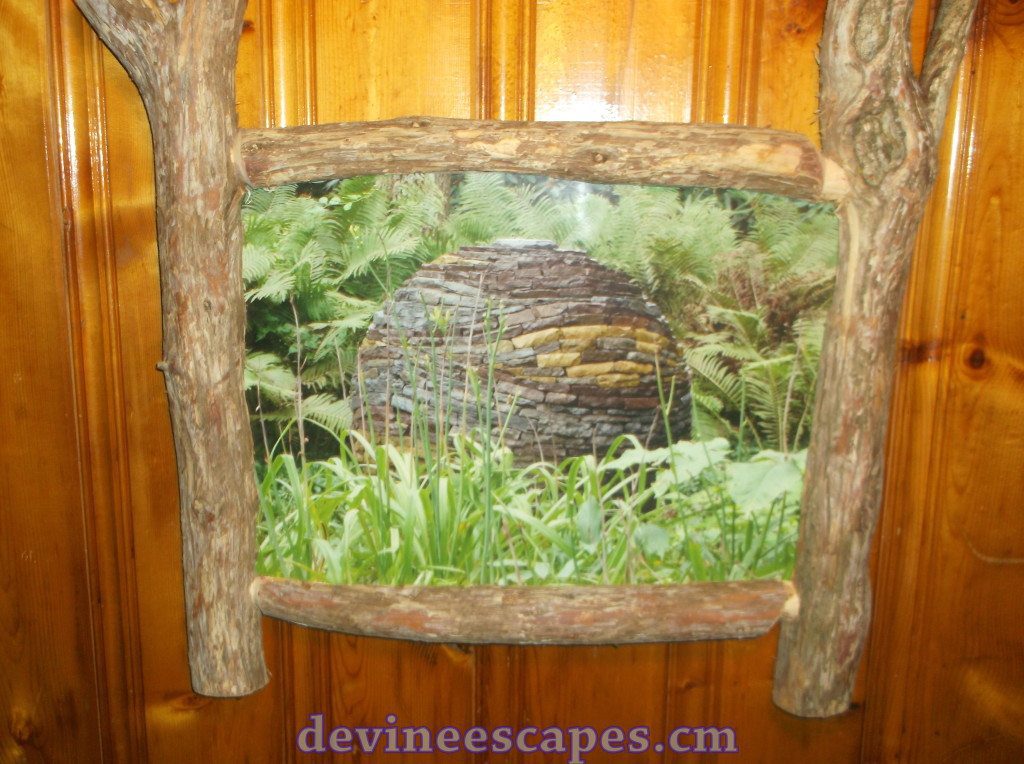 Fine art print displaying of one of my dry stone spheres, in a cedar branch frame.
Other hardscaping services in available from Devine Escapes include:
This is special niche work. Only natural stone, only traditional, real stone masonry. We regularly do projects in the Main Line area, the Poconos, and West Chester New York. I do travel further, but the general serving area includes:
Devon PA | Chester Springs PA | Irvington NY | Yonkers NY | West Chester NY | Bryn Mawr PA | Paoli PA | Limerick, PA | Collegeville PA
Call 610-301-4269
Email: devin@devineescapes.com