So by now you probably know that my main area of focus is on dry stone work--but I've done my 
share of masonry with mortar as well.
Masonry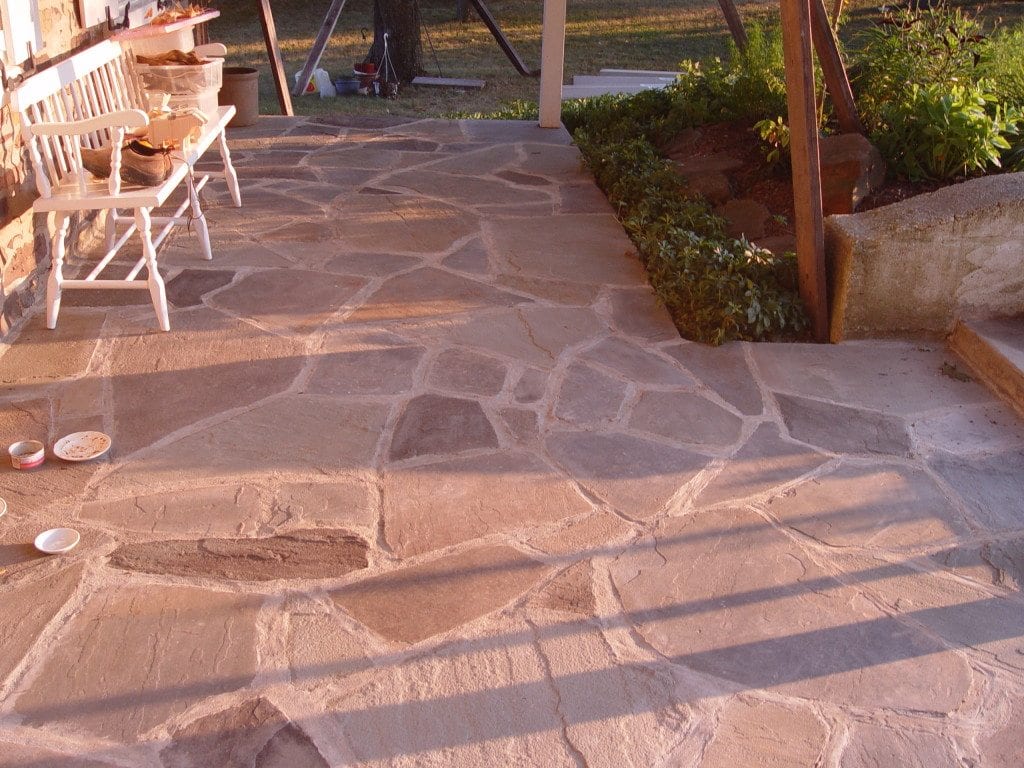 This patio was built originally in the 1950's–and was in a state of bad repair. Well, we gave it some good repair, pulled up every single flagstone, patched up the foundation and re-laid the stone, replacing them as needed–much more affordable than if we had torn out the old foundation. 5 years since the repair was done, no problems in sight. All the other masonry contractors insisted that the entire patio must be torn-up and re-built, by the way, everyone else said it was not worth repairing or that a repair would not last.
Masonry Re-pointing
This is another one where the masonry contractors say it can't be done, and then Devine Escapes goes in and makes it happen–saving the home owner money all the while. What I'm talking about is masonry mortar color matching.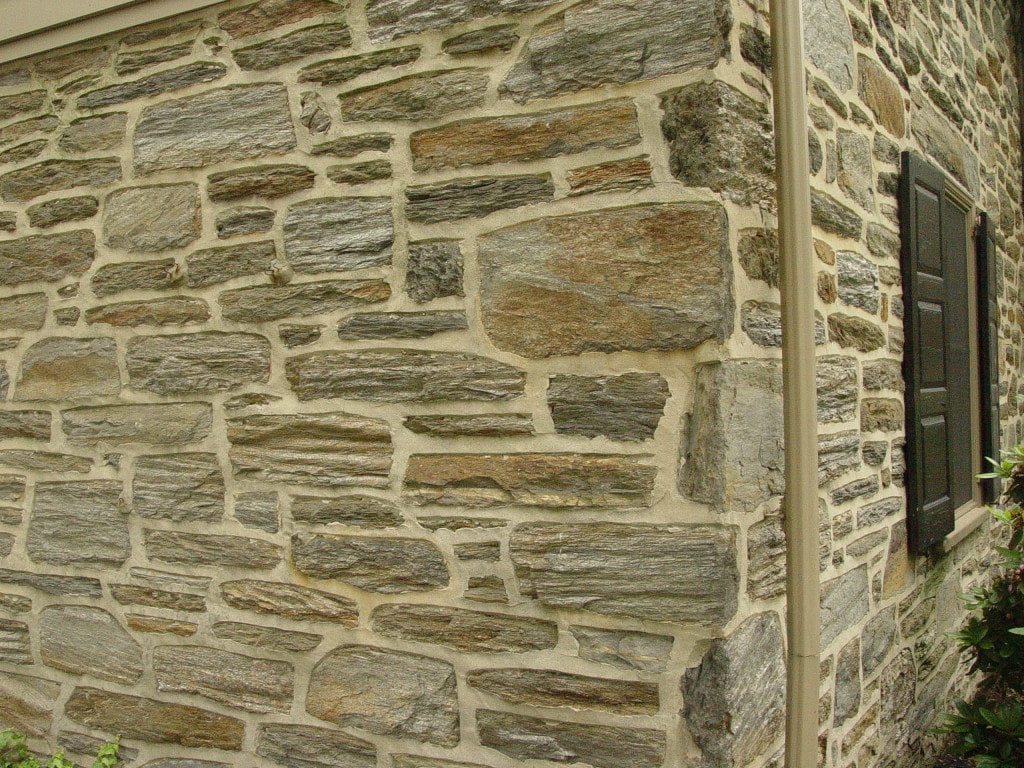 Other masonry contractors recite the mantra "you need to re-point the entire house, or the mortar will never match." I just show up with my tools (and my brain) and mix up the right color of mortar, patch the part that needs it, then ride off into the sunset.
I show up with 4 different types of sand and a few pigments, some portland cement and some lime.  I mix them up until they match the old cement. Like mixing paint. Being an artist helps, sometimes.
Texture is also important…you need to brush your joints, when they are 'thumbprint hard' in order to bring out the aggregate. And/or sometimes we acid wash the joints after they are completely set up, like a week later. Sometimes we'll use larger sized sand…whatever it takes to match the style the old masons used. A perfectly smooth white joint in old masonry is bad, and will still look bad years to come.
In the photo right above, the old mortar and the new are almost the exact same, the only difference is some splotchiness on the surface of the old…when the new material does age and does get dirty, then it will be utterly impossible to tell the difference. Scroll back up a few photos to the one of the corner of the house again–you just can not find a seam where the two mortars meet, the color match is just about perfect.
So, as I mentioned earlier, most of my stone work is landscape related. personally, I see little or no reason to ever use cement in a landscape situation, so for that reason, you may notice that almost all of my recent masonry photos are repair oriented. Re-pointing, replacing loose foundation stone, chimney re-build. Sure, dry stone is my usual gig, but there's a challenge to masonry repair, an art to it–it's kind of fun. Figuring out how to match old cement in color and texture, matching a masons' style on stone work that may be many decades old, or hundreds of years old in some cases–takes patience, but I enjoy that kind of thing.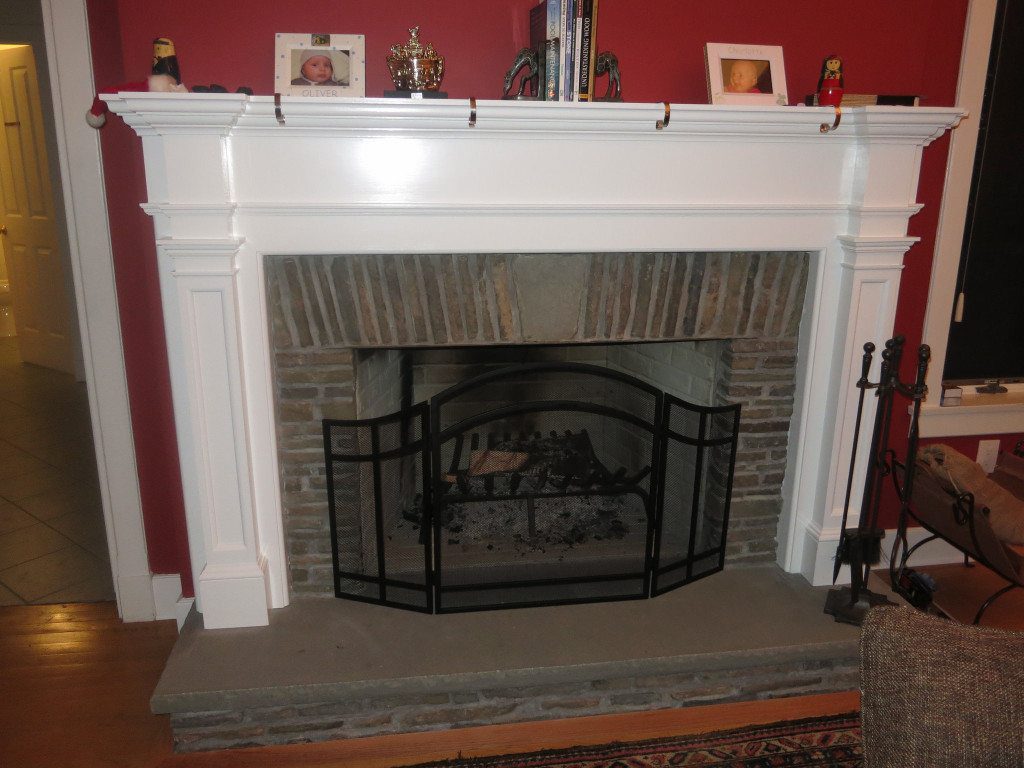 And sometimes a client just wants a new project to look like it belonged to the original house–that's understandable. And I have the skill to make it happen.
Here's another, from a few years back–a transitional piece of mine–it's almost a dry stone hardscape….but no, there is mortar, concealed, within the wall.
When I first started this company, a lot of our work was traditional masonry, and a lot of our walls were stacked stone with concealed mortar joints. It was really on this particular job where as said to myself, hey, I can build this without cement….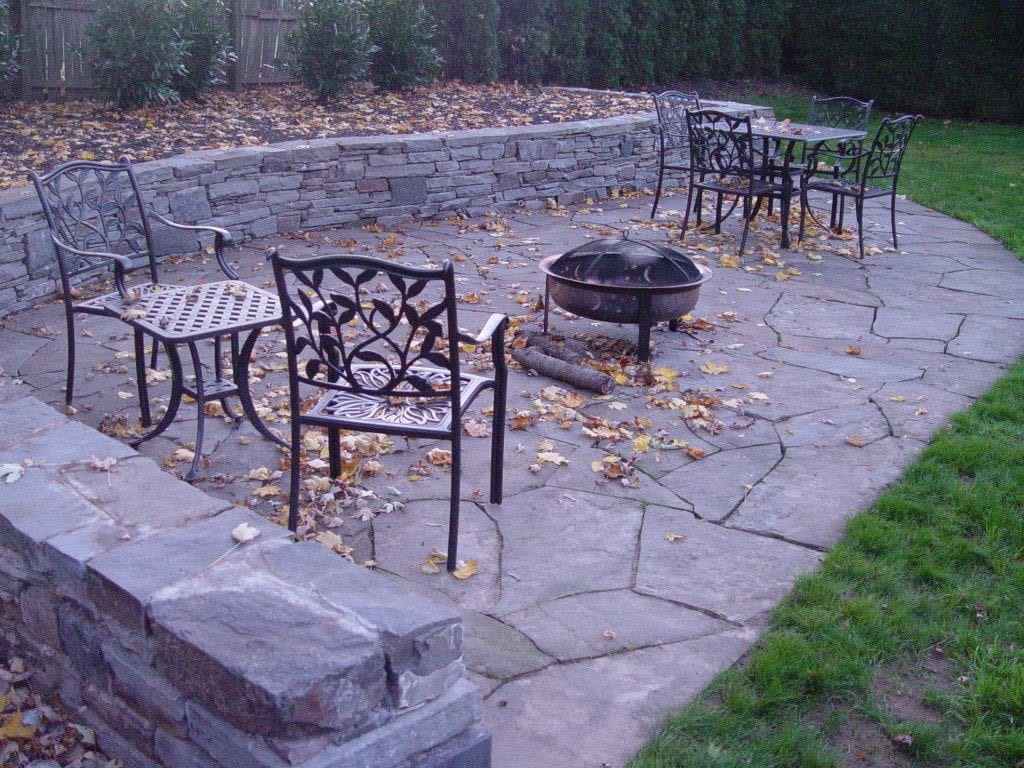 Very recently, a client in good standing asked me to build her some a raised patio, but was asking for poured concrete….
We discussed the issue at some length and came to the conclusion that a raised patio supported by a cinderblock with white stucco would satisfy their needs and wants best. Thermal Bluestone caps and treads cap the walls and steps and the floor is flagstone.
Pretty far outside of the norm for me…but after going so far into the organic, flowing side of landscape artistry, it was cool to remind myself that I do indeed still know how to build things level and square. Also it's like, sure, I may be doing landscapes, I may be doing dry stone work–but I indeed am a Mason, fully capable of handling most any masonry project that comes my way. Since forming Devine Escapes back in 07 we've successfully done…chimneys, concrete pads, cobblestone driveways, block work, re-pointing, brickwork, stucco, foundation repair, steps from stone and cement, steps from brick and cement, steps built with block–all of this in edition to my main gig–which is natural stone landscapes.
Anyway, check out the rest of our galleries and check out what our clients are saying–and then fill out the contact form below and tell me about your masonry and/or hardscape project today!
Other hardscaping services in available from Devine Escapes:
Natural stone, traditional real stone masonry. We regularly do projects in the Main Line area, the Poconos, and West Chester New York. I do travel further, but the general serving area includes:
Devon PA | Chester Springs PA | Irvington NY | Yonkers NY | West Chester NY | Bryn Mawr PA | Paoli PA | Limerick, PA | Collegeville PA
Call 610-301-4269
Email: devin@devineescapes.com
Thanks!