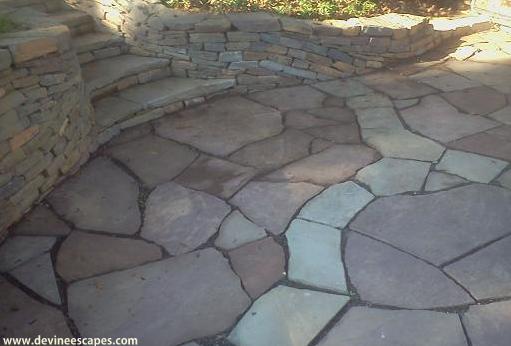 Devine Escapes
610 301-4269
contact us
Wholesome Inspiring Spaces
Built with Stone, Art, and Passion
---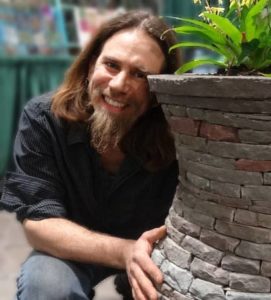 Local natural stone materials turned into comfortable inspiring, outdoor space

Hardscapes designed to fit with the surrounding environment

A space that encourages spending time outside

Individual attention focused the entire project and every stone
---
Our Wayne Flagstone and Stone Patio Business
Wayne stone patios that stand the test of time
Wayne is the place you go if you want a traditional New England feel with convenience to Philadelphia.  Devine Escapes is who you call if you want your residence to have a New England feel with the permanence of real natural (and local) stone structures like flagstone patios, stone walkways, dry stack retaining walls, dry stone walls, stone benches or even stone garden art.  We develop all along the Main Line, Wayne included.

We are, licensed, and insured so you know you are getting a guaranteed safe and secure installation.  With Devin's passion for artwork, every stone piece is designed to complement its environment and create a space that seems natural and comfortable.  If General Anthony Wayne were alive today he would highly approve of the work being done by us in his town.
---
Flagstone Walkway with Brick and Flagstone Steps – Wayne residence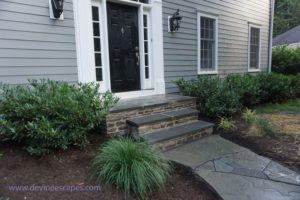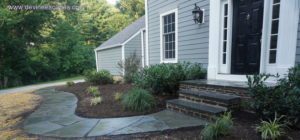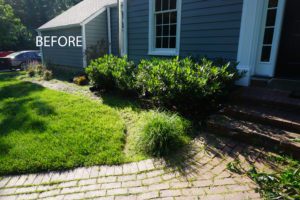 Not everything Devine Escapes does is dry stone.  Here in we installed a mortar based flagstone walkway and patio.  Wayne residence was originally installed with an uneven brick walkway with weeds growing between.  The flagstone walkway is set above grade to make it very easy to trim the yard and keep things beautiful.  The walk is also on a solid platform that will remain level and help eliminate any cracking of the mortar and eliminate weed penetration.  Unlike the original installation, we did this with an eye to full professionalism that really is not that much more expensive than cutting all the corners.  This is how we approach all our Wayne stone patio, walkway and wall installations.