Dry Stone Walls
Most of these dry stone walls are in the Main Line suburban area. Some others are in the Poconos, New York and other states.
Dry Stone Walls Contractor
610-301-4269
devin@devineescapes.com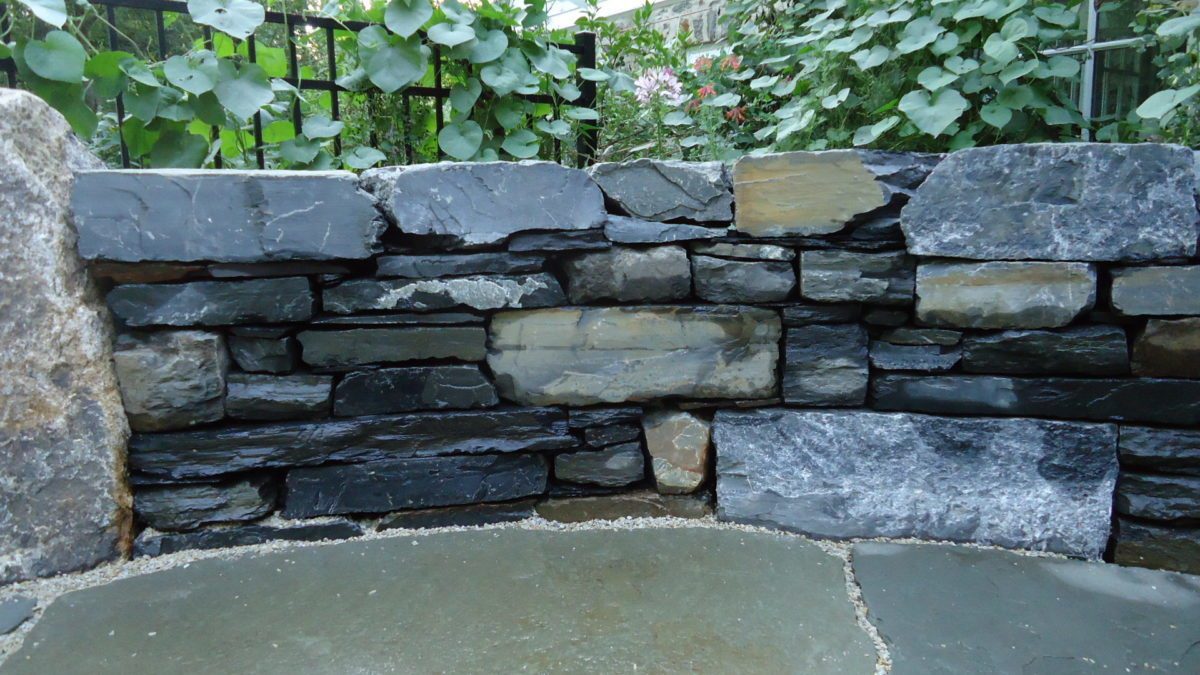 I stack dry stone walls nice and tight (not too tight), plenty of through stones, good hearting…and they just last and last. I'll have to make a blog post soon detailing my construction methods–but essentially, dry stone work is very simple. Generally speaking, I try to follow internationally recognized standards set forth by dry stone masonry organizations of whom I am not actually affiliated with, although I have read their literature.
Dry stone craft is not something the average landscaper generally does well, to be honest. Nor the common stone mason, for that matter. Dry Stone Walling is it's own thing, with it's own rules. Not insulting any of the trades, merely pointing out that there is a different skill set, one that any mason or gardener would do well to learn. That's how I started in fact, as a landscaper who had built a few stone walls, and then decided to get serious about it. They could learn–it's not THAT terribly tricky to build a good dry stone wall.
Being an artist, as well as a stone mason, I like to try out different things, with my walls. I've been at it long enough that I can get away with "bending" the rules a bit…
Dry stone masonry
Dry stone masonry aka walling, is not so big in eastern Pennsylvania*, more of a UK and New England kind of thing. Despite the fact that we have plenty of stones in Pennsylvania. Try digging a hole–you'll see! Well, there's walling traditions around the world, but I'll get into that another time. Anyway, so over the years I've worked with masons and landscapers, learning various methods and styles of landscape wall building. Eventually deciding that dry stone craft is a)the most beautiful b)ultimately the most durable and c) as a builder, the most challenging. There's no cement to hold it together–each stone must be placed in a manner that supports the entire structure. Stones are woven together, nicely interlocked, not merely stacked.
*some areas in Pennsylvania, in which I have had the privilege of working, are actually full of dry stone walls. Honesdale (near Scranton) and Chester Springs are both naturally rocky areas and both places have many dry stone walls, old and historic, as well as brand new.
There's something harmonious about this work, something real, something joyful. What I do for a living, really: I put smiles on faces. Smiling myself, all the while.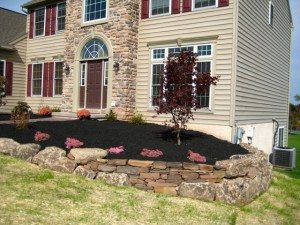 It is my hope and belief that these walls, lovingly crafted as they are, will last a long long time and bring joy to the home owners and visitors for many years to come. Dry stone walls flex with the ground, rather than standing rigid, like mortared walls will. Properly constructed, they will allow water to flow through them without having any hydrostatic pressure build up behind them.
Really, I could go on, praising the benefits of dry stone walls as compared to other landscape wall systems–but the fact is, I just like them better. Nothing man-made is going to compare to the beauty of natural stone. Having been doing this for quite awhile now, I like to get creative with natural stone. Either laying the stones in a novel, yet structurally sound manner, as I do with my flowing stone styles, incorporating boulders into stacked stone walls, or contouring my walls into the landscape in a pleasing manner. Still, a simple, unassuming dry stone wall with character and presence will always bring satisfaction, with or without any artistic flourishes.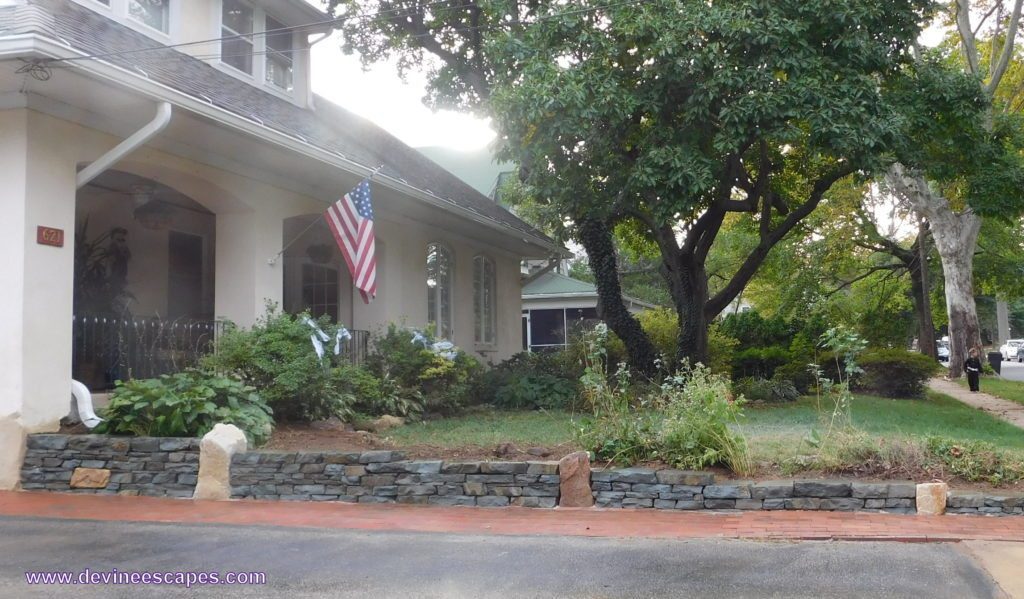 Other hardscaping services in available from Devine Escapes:
Only natural stone, only traditional, real stone masonry. We regularly do projects in the Main Line area, the Poconos, and West Chester New York. I do travel further, but the general serving area includes:
Devon PA | Chester Springs PA | Irvington NY | Yonkers NY | West Chester NY | Bryn Mawr PA | Paoli PA | Limerick, PA | Collegeville PA
Call 610-301-4269
Email: devin@devineescapes.com
Thanks!