Dry Stone Steps
Dry Stone steps can pose a challenge, to a young waller, or to a mason or landscaper who is not well versed in the art. The photo above is one of my earlier forays into the world of dry stone step construction. Also, it is one curvy project, with the dry stone wall and steps curving on their face and the wall top, the steps themselves neatly worked into the flow.
.
Beauty is one thing–and I do hope that other people consider these dry stone steps beautiful. However, the real measure of a set of dry stone steps is stability. Stability over the years. The proof of the step is in the stepping.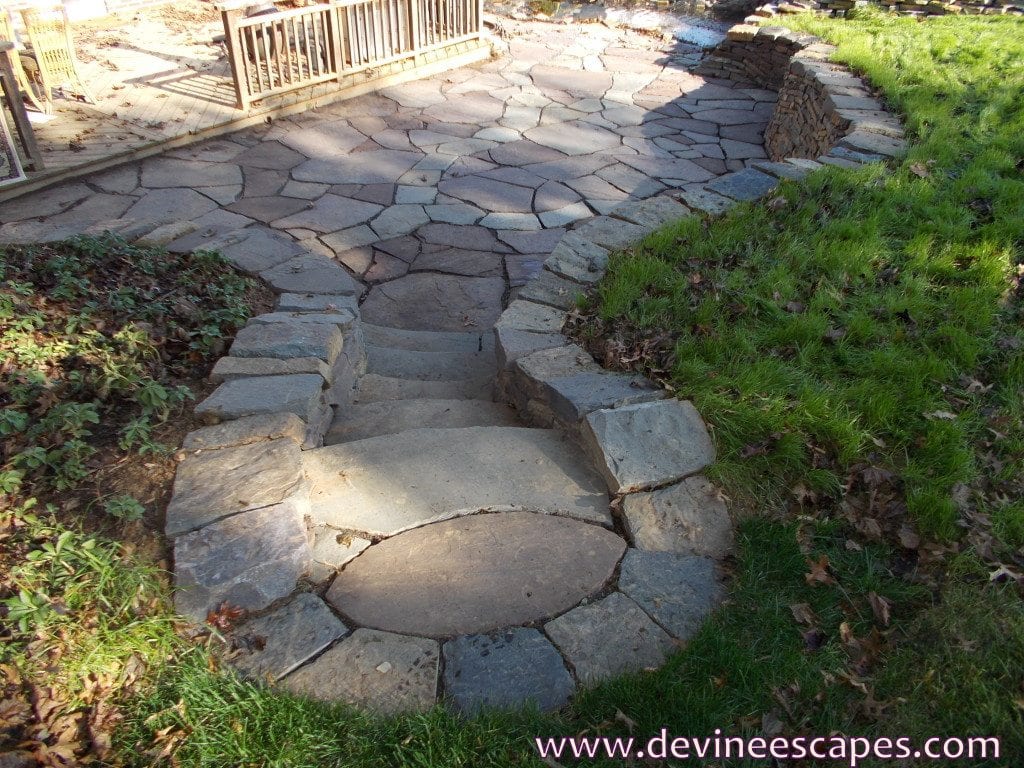 Yes, these steps still stand, wobble-free, years later. You just gotta fit 'em together right. And lay them babies with sincerity and focus. All of the dry stone steps featured on this page are built 100%dry, with no mortar and no glue of any kind and again yes, they are quite stable underfoot.
Dry Stone steps set into a wall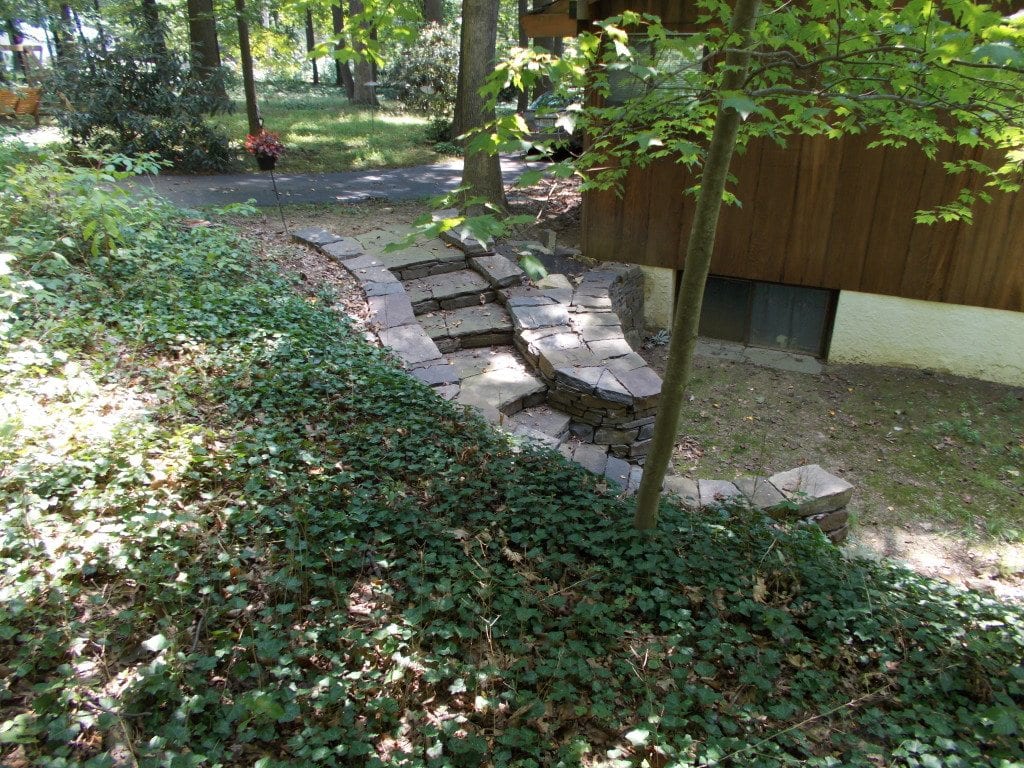 Once upon a time, I was contacted to build a dry stone wall. Actually, you could call it a re-build, as there was a bit of a dry stone wall there already. Anyway, the old wall was not up to standard. More interestingly, the hillside itself offered up some interesting contours. The idea for a challengingly curvy set of dry stone landscape steps came into mind–and came into being, after some bit of work.
Dry stone stairs leading right to an entrance are an especial challenge. They are going to be used repeatedly, every single day–and the smallest bit of wobble will surely be noticed. Lucky for me, and for my clients, this guy right here, he's got some styles and skills.
These steps right here posted a particular challenge–usually, my dry stone steps are held steady by the step above. each platform that you step on is itself weighed down by the stones supporting the next step up–and probably also pinned down by walls along the side of the step. With a step leading right to a door, there really is no step above the top step…obviously. And design-wise it made no sense to have side-walls. The dry stone work supporting these two sets of steps (at the same house, back and side entrances) is nice and tight, solid dry stone walling. These steps stand firm and stable, years after construction.
These steps right here were easier to get stable than some of the others that I've built over the years–easier to get them stable because I used 800 pound stones, nice large rectangular chunks of stone. Too heavy to ever wobble underfoot, I just had to get them level and looking good.
Another set of curvy dry stone steps.  This one's in Chester Springs–and is an exploration of the same shape and concept that I used in the dry stone steps in Philadelphia, which you can see up at the top of this page. I'm not done with this form either, it will be revisit again. Soon, even.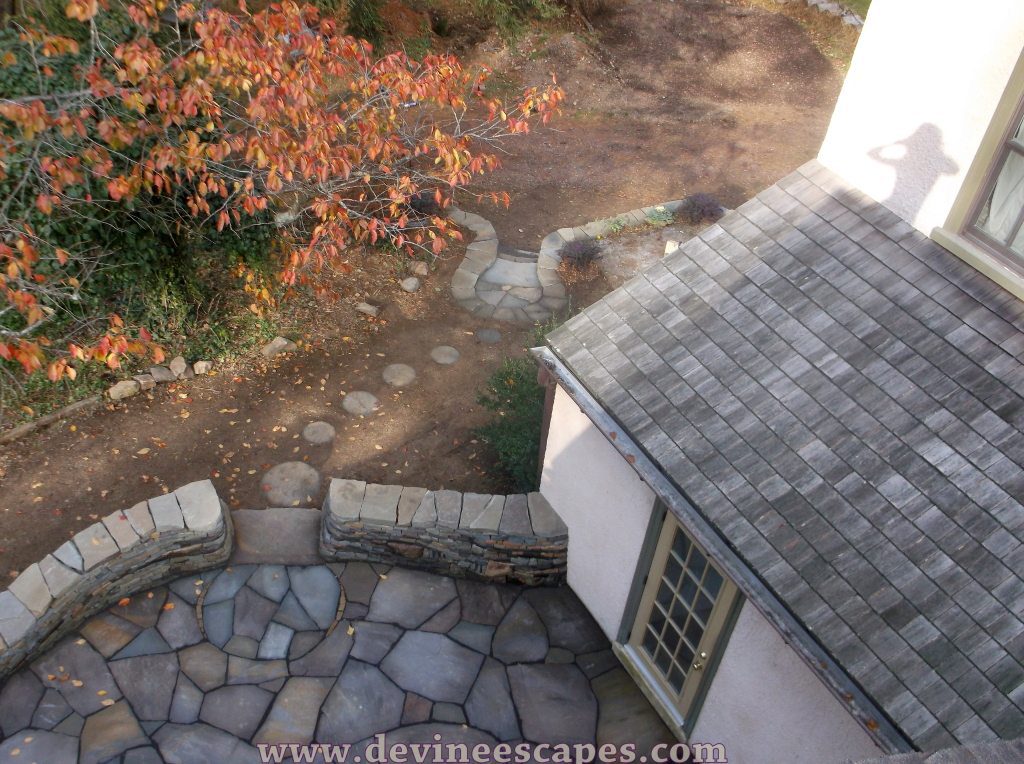 Fieldstone walls and steps repair job, in Honesdale Pennsylvania
This was a repair job, dry laid stone walls and steps. I kept the original lay-out, but re-built most of the walls in my own style, re-leveled the steps, set some upright boulders and made the structure more sturdy, functional and aesthetically pleasing.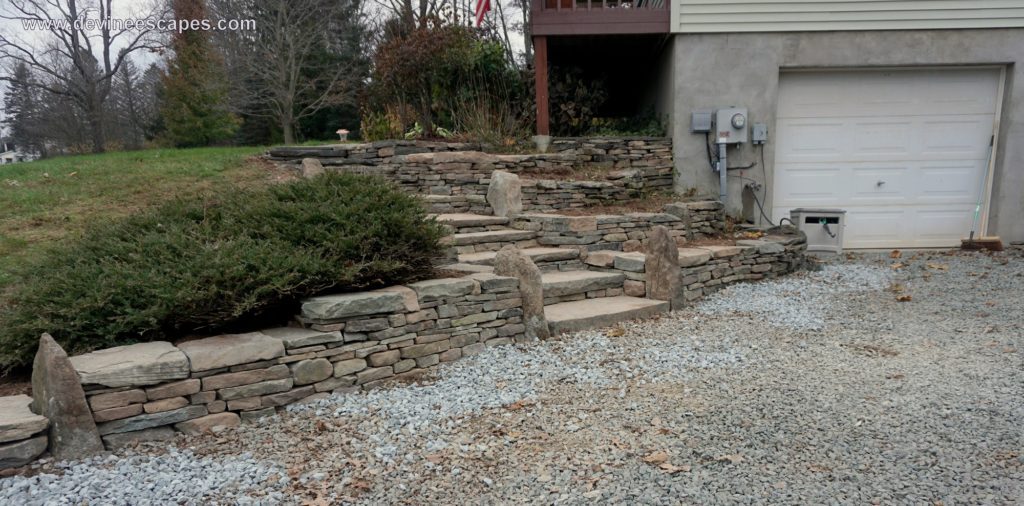 Other hardscaping services in available from Devine Escapes:
Natural stone, traditional, real stone masonry. We regularly do projects in the Main Line area, the Poconos, and West Chester New York. I do travel further, but the general serving area includes:
Devon PA | Chester Springs PA | Irvington NY | Yonkers NY | West Chester NY | Bryn Mawr PA | Paoli PA | Limerick, PA | Collegeville PA
Call 610-301-4269
Email: devin@devineescapes.com
Thanks!